President of Kazakhstan and Binance CEO Negotiate Building a Crypto Industry Hub
Source: INTERFAX
On May 25 the president of Kazakhstan Kassym-Jomart Tokayev had a meeting with the CEO of Binance Changpeng Zhao. The top point of the agenda was the possibility of creating a regional crypto industry hub in Kazakhstan.
During the meeting in Nur-Sultan the president discussed cooperation prospects for the company and Kazakhstan's dedicated legal structures, as well as the possibility of creating mutual education programs in blockchain technologies, with the world's leading cryptocurrency and blockchain infrastructure provider.
The meeting resulted in the signing of the memorandum of understanding between Binance and the Ministry of Digital Development, Innovation, and Aerospace Industry of Kazakhstan. The move will see Binance help advise on developing the legislative framework and regulatory policy for crypto-assets in the Republic of Kazakhstan. Under the cooperation agreement, the Ministry of Digital Development, Innovations and Aerospace Industry of the Republic of Kazakhstan and Binance will also seek opportunities to integrate banking infrastructure within the cryptocurrency market and facilitate the development and implementation of distributed ledger technology.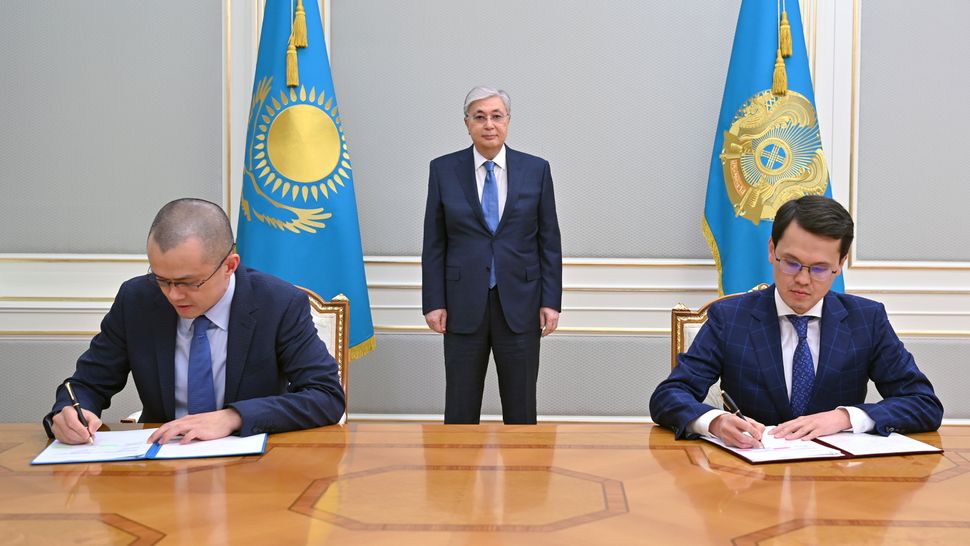 Bagdat Mussin, Kazakhstan's Minister of Digital Development, expressed hope for Kazakhstan to become a major regional center for international cryptocurrency market players.
"As a global leader among crypto exchanges, Binance takes responsibility for the whole ecosystem. Together with Changpeng Zhao, we considered the Binance roadmap in Kazakhstan. We also discussed the potential of creating a blockchain-oriented venture capital fund and academy to help local talents from Astana Hub go global. We really believe Kazakhstan can become a regional hub for international players in the crypto world," — Bagdat Mussin, Minister of Digital Development of Kazakhstan.
In his turn, Changpeng Zhao noted that Kazakhstan is one of the global leaders in cryptocurrency mining. He pointed out Kazakhstan was among the first in the world to legalize mining.
"We believe that, in full cooperation with the local authorities, Binance can make a great contribution to the development of the local crypto community and blockchain ecosystem in Kazakhstan," — Changpeng Zhao, CEO of Binance.